A much anticipated return to the National Water Sport Centre saw a tremendous weekend of racing for MUBC at BUCS Regatta 2021.
DAY 1:
Despite some gloomy conditions on the water, three crews ventured out on the first day to put in a very strong effort to kick off the campaign. First up was the men's intermediate pair headed by Ben Gompertz and Darioush Jalili who gave a fantastic performance to claim 2nd in their final. This was followed by the women's intermediate coxed four who also put in a valiant effort to be rewarded with 3rd in their final. Thursday also saw the first sculling event, with MUBC's men's intermediate quad competing and smashing their final after a very intense race to achieve 3rd place.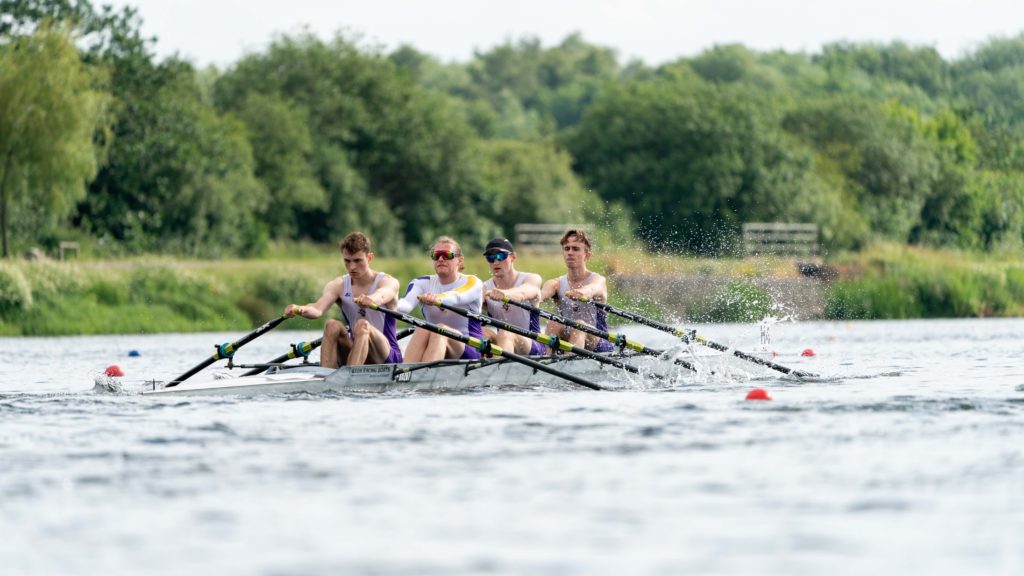 For most of the athletes who competed on this day, it would not be the last time racing for them in Nottingham that weekend, providing a very promising indicator of what was to come later on. An all-round great initial performance and a massive well done to all of MUBC's athletes who competed!
Results:
Mint2-: 2nd (D final)
WInt4+: 3rd (F final)
MInt4x: 3rd (D final)
DAY 2:
As more of MUBC's crews started to arrive on Friday morning for pre-race briefings, a real sense of club excitement and ambition ignited for the day ahead. For the second day of competition would feature the racing debut of many beginner rowers in both sweep and sculling events as well as the much awaited senior men's intermediate eight. The lake began calm, and the stage was set for what was to become a terrific day of racing.
The singles sculling events were first to be held with Kitty Johnson, Ollie Neame, and Felix Rummel making a splash in their respective beg2, intermediate lightweight, and intermediate categories. For Kitty and Ollie this was their first time competing in a single with only a couple months of singles training behind them, making their results truly impressive coming 4th and 3rd in their respective finals. Felix as ever put in a mesmerising performance to pick up a BRONZE medal despite some very hefty competition in his boat class. A massive congratulations to the scullers of MUBC!
Next up were the sweeping beginner categories of the day which were split up into beg1, representing the novice squads, and beg2, who comprised of senior squad rowers who had only started the year before last but had missed out on last year's novice events due to cancellations caused by Covid-19. The novice women's beg1 eight began first and consistently produced strong results across their time trial and semi-final. Their final saw one of the most tightly contested races of the day, resulting in a brilliantly close 1st place win!
As the conditions on the water started to worsen, it was now time for the men in the beg2 coxed four to make their move. After some very mighty rowing across their three pieces, a solid 6th position was secured in the A final. Yet, immediately after and as the clouds started to darken, some faint yellow glimmers across the lake revealed a formidable force approaching. Within seconds, the yellow bucket hat free speed novice beg1 coxed four thundered down the course to burst past the finish line and secure SILVER in their category. Absolutely incredible results from all of MUBC's beginner rowers!
And finally, as the sun started to re-emerge, the senior men closed the day off after their hotly contested time trial to near dominate their final, securing a fantastic 2nd place. Well done boys, a great race to conclude a very successful second day at BUCS! After the racing was over, it was time to stretch, and prepare for a full send on the final day of the regatta.
Results:
MBeg24+: 6th (A final)
MBeg14+: 2nd (A final) SILVER
MInt8+: 2nd (D final)
WBeg18+: 1st (B final)
MInt1x: 3rd (A final) BRONZE
WBeg21x: 4th (B final)
MIntLwt1x: 3rd (D final)
DAY 3:
All of the joy, excitement, and determination from the prior day had spilled into the Saturday, setting up what was going to be a very special final day of racing for MUBC. As with day 2, day 3 first featured the single sculling events, followed by more beginner boats, concluded by four of our senior men in the intermediate coxed four event.
Some absolutely amazing results were first achieved by our senior women's captain Alice Beacom and Rosa Thomson in the intermediate and championship singles events. Alice secured a brilliant 3rd in her final with Rosa placing 5th in the repechage. Huge results girls!
With that it was time for the novice women to take to the water once more, now in a beg1 coxed four and a beg1 quad. Once again putting in a strong performance as with the prior day, the coxed four secured 3rd and the quad 2nd in some tense finals racing.
The yellow bucket hatted novice men also made a tremendous return boating an eight, however, due to some unforeseen crew changes, were joined by two of beg2 senior men to now compete under the beg2 eight category. And yet, despite the majority of the boat being made up from very new rowers, all expectations were defied, with the crew placing 4th in the A final of the event! An unquestionably impressive feet and well deserved.
Now it was time for the senior men in the intermediate coxed four to make their mark. After many weeks of training, they knew what had to be done and made sure to put in a solid performance. An amazing result was achieved, being placed into the B final of one of the most competitive events. Great send boys, big things are definitely ahead!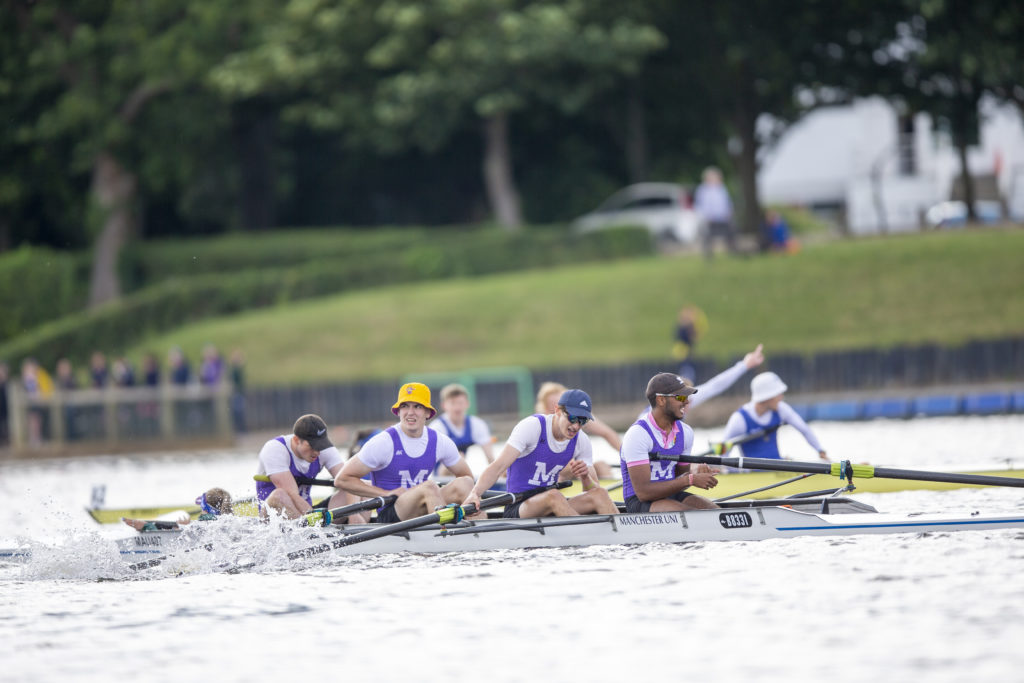 One of the last and most superb results from the regatta came from the undeniably exceptional performance from the women's beg2 coxed four. Throughout the time trial and semi-final, these girls put in a consistently strong effort to guarantee an exciting race for their final. Their moment began, anything was possible, 3rd place at 500 m to go had nothing on the immense wind which gutted the competition. By 100 m to go it was neck and neck for gold. On the line it was too close to call; a photo finish was announced. And finally, there it was. GOLD! The work and grind of training had truly paid off. What an amazing result from an equally amazing crew, congratulations girls!
Results:
MInt4+: 6th (B final)
MBeg28+: 4th (A final)
WBeg24+: 1st (A final) GOLD
WBeg14+: 3rd (C Final)
WBeg14x: 2nd (D Final)
WInt1x: 3rd (E final)
WCh1x: 5th (repechage 2)
BUCS Regatta 2021 was an incredibly exciting weekend for the whole of MUBC and one of its most successful. A huge well done to all of the athletes who competed, everyone put in a truly passionate effort to be proud of. A special mention to coaches Michael and Larry whose hard work and dedication have been pivotal to the growing successes of the club! And a massive thank you to everyone who has supported the club and its members along this journey. MUBC looks forward to increased success over the remainder of regatta season and into the head season in winter. Until next year Nottingham, it was a pleasure.