Regatta season kicked off on Saturday 21st April with the biggest race of the year – The Two Cities Boat Race.  The University of Manchester and the University of Salford battled it out over 500m in glorious sunshine on the River Irwell. Twelve crews raced in six categories: Alumni 8+ (result not included in cup), Novice Women 4+, Novice Men 4+, Senior Women 4+, Senior Men 8+, Men's 1x, Women's 1x, and Committee 8+.
Racing kicked off with the Alumni 8+ battling it out. It was a close race with Salford just taking the win.
Following the Alumni was the Novice Women. Unfortunately, Salford were unable to field a 4+ meaning two Manchester crews took to the water. It was an extremely tight race with the boat racing for Manchester winning by less than a canvas.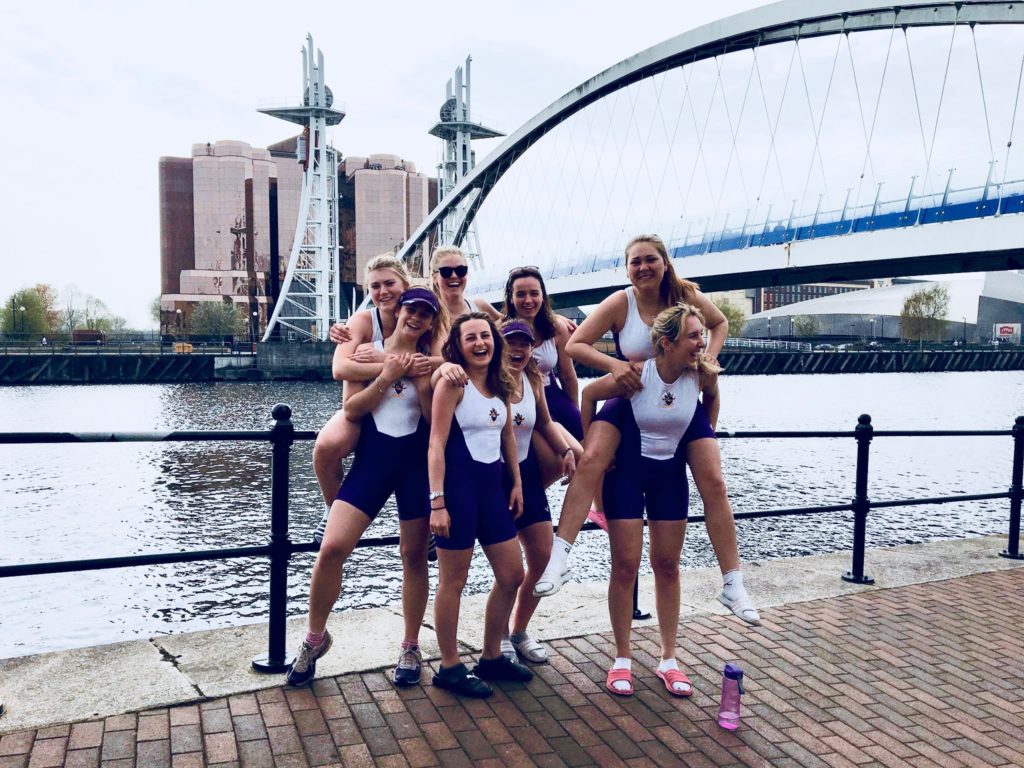 The Novice Men raced next, with Salford taking the win.
Going into the senior racing both universities were tied on points. This changed when Manchester took the win in both senior races.  The Senior Women gave a dominating performance, leading from the start, and winning by over two and a half lengths. The Senior Men's race was closely fought, but Manchester pulled ahead just before the finish.
Going into the final races Manchester held a convincing 3:1 lead. This all changed in the singles races where Salford won both.
The last race of the day was the tie-breaker, and also the most anticipated – the Committee 8+. Due to an injury in the Salford 8+, six Salford men and two women took on Manchester's five men and three women, both clubs being coxed by their respective Presidents.  It turned out to be an extremely close race with Salford only just taking it at the line.
Overall, it was a great day of racing in some excellent conditions. Thank you to everyone that made it a success, and especially Salford for hosting us!
Alumni 8+ – Lost
Jonah Jones, Dave Bentham, Jack Roe, Tilda Donnachie, Grace Miller, Fran Berrand, Molly Arbanou, Benedict Adey Johnson

Novice Women's 4+ – Won
(racing for Salford) Vicki Roberts, Elena PM, Chloe Townsend-Williams, Electra O'Riordan; cox: Emma Leverton
(racing for Manchester) Fionnuala Lane, Lucy Loughlan, Katy Billington, Felicitas Buck; cox: Thomas O'Hanlon
Novice Men's 4+ – Lost
Josh Knight Steward, Danny Crofton, Karollis Ven, Evan Wong; cox: Benjamin Carter
 
Senior Women's 4+ – Won
Klara Paro, Alice Peachey, Celine Vine, Rowena Bailey; cox: Ellie Knights
 
Senior Men's 8+ – Won
Bertie Gregory, Ghazn Khan, Phil Blenkinsop, Francis Heylen, Sebastian Baylis, Mihael Rawson, William Bland, Darioush Jalili; cox: Emma Leverton
 
Women's Single – Lost
Rowena Bailey
 
Men's Single – Lost
Felix Rummel
 
Committee 8+
Bertie Gregory, Francis Heylen, Phil Blenkinsop, Alice Peachey, Sebastian Baylis, Miles McEwen, Celine Vine, Klara Paro; cox: Emily Harding