Early on Saturday morning, the 10th March, the novice and senior women's squad competed at Women's Eights Head of the River.
With boats rigged, head coach John Impey gave the crews last words of wisdom and motivation before they set off. The first boat set off 176th. The Tideway came as a drastic change from the Bridgewater Canal, but despite the initial shock of choppy water and headwinds, the crew was able to implement their months of training to finish 141st.
The second boat set off 312th and finished 274th. This was the longest race the crew had been in and they were able to keep composed in the rougher conditions. The novice squad were proud of the improvements they had made in training for the race and were able to hold on to those improvements on race day.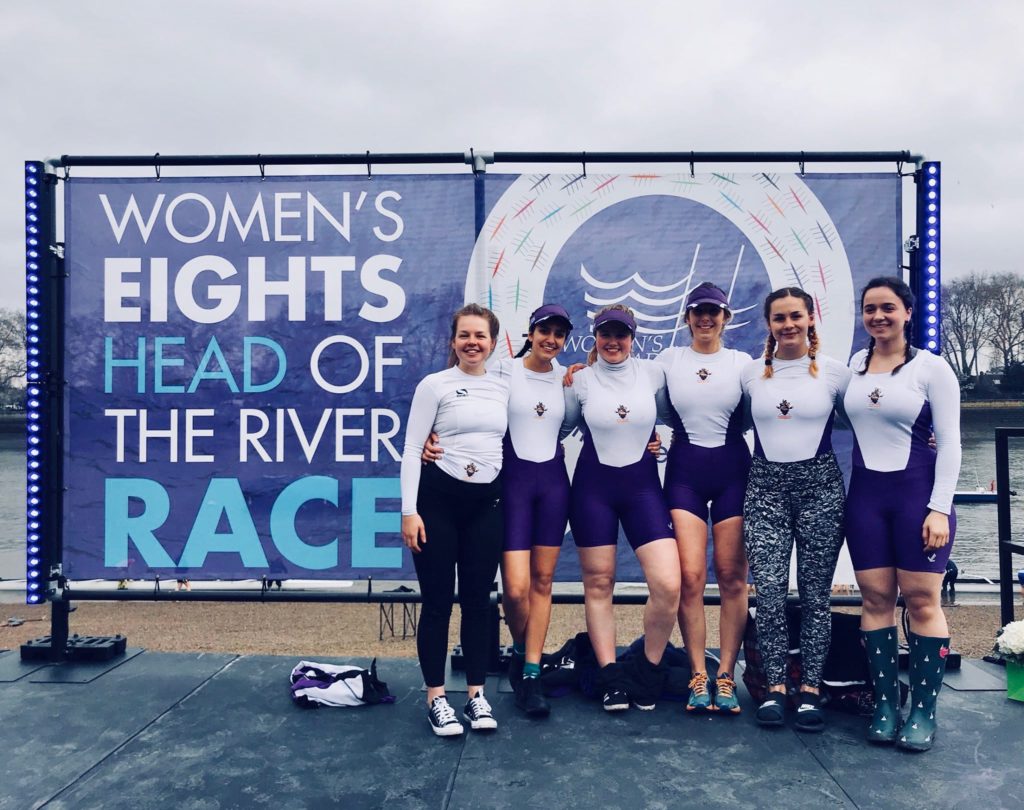 The head season has ended with the women ready to make improvements and smash regatta season!
The following day, Sunday 11th March, the men's squad raced the Head of the River Race (HoRR). After arriving on the embankment, rigging, and a few wise words from the Head Coach John, the crews set out to take on the Tideway.
Conditions were as good as can be expected from the Tideway for our two Men's eights; overcast with a slight headwind. Racing over 300 other crews, a gutsy performance saw the first eight improve on their starting position by 49 places finishing 130th, whilst the second eight finished 275th.
The performances definitely reflect an improvement over BUCS Head two weeks ago and the squad can now look ahead to our upcoming training camp in Chester during the Easter holidays and the regatta season.
Full results can be found here (HoRR) and here (WeHoRR), and footage of the crews heading towards the finish can be seen here (WV1), here (WV2), here (MV1), and here (MV2).
Women's 1st VIII
Emma Leverton (cox), Celine Vine, Alice Peachey, Ruth Haigh, Rowena Bailey, Katy Billington, Lucy Loughlan, Klara Paro, Michaela Sommerová
Women's 2nd VIII
Tom O'Hanlon (cox), Victoria Roberts, Elena Pavan Macias, Fionnuala Lane, Claire Baxter, Chloe Townsend Williams, Yasmin Worsley, Felicitas Buck, Tilly Meighen
Men's 1st VIII
Benjamin Carter (Cox), Bertie Gregory, Francis Heylen, Phil Blenkinsop, Harry Cuffe, Sebastian Baylis, Michael Rawson, William Bland and Darioush Jalili
Men's 2nd VIII
Thomas O'Hanlon (Cox), Karolis Ven, Ghazn Khan, Felix Rummel, Danny Crofton, Joshua Steward, Evan Wong, Lewis Renwick and Freddie Barnes.