Despite clashing with reading week, MUBC sent a full contingent of athlete to BUCS indoors on 4th November. With Salford University hosting this year's event, we all benefited from a rare weekend lie in.
Up first it was the beginner men's 1k. After a simple briefing with words of wisdom from their captains about not going off too fast, they all went off too fast. In the first heat Danny Crofton claimed a well fought 3rd with 3:21.0, Dan Ellis was just pipped on the line into 2nd in his heat with a 3:15.8, and Karolis Venkunas was joint 1st in his heat with an epic race for the line eventually claiming bronze overall with a time of 3:14.7.
Next it was the women's turn. Straight out of the blocks in heat 1 Lucy Loughlan dominated the race coming home with a time of 3:51.4 to put herself in pole position. Unfortunately, in the dying stages of the final heat, a fading competitor just held on to beat Lucy into silver overall by 0.2 seconds. More impressive from the novices however was their strong and consistent technique while racing which bodes well for the future.
Following that it was the turn of the lightweight men and a step up to the 2k events. Having worked hard to get down to weight, resident chain yanker Sebastian Baylis laid down a powerful performance of 6:21.4. A full 9 seconds clear of his nearest competitor (and a time good enough for 5th at GB trials running the same day) to claim the first gold medal of the day for MUBC.
"I'm happy with the result of course, and it shows progress over a bronze last year, but I am a little disappointed with the time. The novices put in some great performances and it was really great to see how much some of them had improved in only a short space of time. I really enjoyed the day overall."

Sebastian Baylis, Novice Men's Vice Captain.
Will Bland was just pushed out of the medals into 4th with 6:44.1. Special mention must go to Benjamin Carter who while juggling coxing and rowing this year still raced pulling an impressive 7:17.6.
In a soul crushing display to the other competitors in the lightweight women's category, President Emily Harding cruised away to a 20 second victory over her nearest competitor setting a time of 7:34.2 to win the second gold of the day and confirm MUBC as the powerhouse of lightweight erging in the Universities of the North West. Mia Gair, fellow lightweight woman, made 5th.
The openweight men laid down solid performances all round with MUBC blocking out 5-9th overall, with times from 6:37.8 to 6:48.3 for; Harry Cuffe, Michael Rawson, Francis Heylen, Phil Blenkinsop, and Max Kaminski. On the women's side Celine Vine led the way with a respectable 5th in 7:55.5 followed by Rowena Bailey and Jossy Shannon in 7th and 9th respectively. Plenty to improve upon but a good starting point for all the athletes involved as we move into 5k season.

After the individual events were finished it was time for the relays, 4km in teams of 4. Both squads had three teams entered, two senior and one novice each. The men were first with close racing for all three teams; the 'A' team were strong from start to finish if a little rough on the changeovers and held off a charging Lancaster for 2nd place, the 'B' team narrowly lost out to Liverpool's 'B' team, and the novices as the only novice team entered performed valiantly nearly claiming the scalp of Salford's senior team.
It was déjà-vu with the women's 'A' and novice teams; holding off a charging Lancaster for 2nd place, and again the only novice team entered competing hard but unfortunately coming up short against more experienced athletes. The 'B' team worked hard but could only manage to come away with 6th in the end.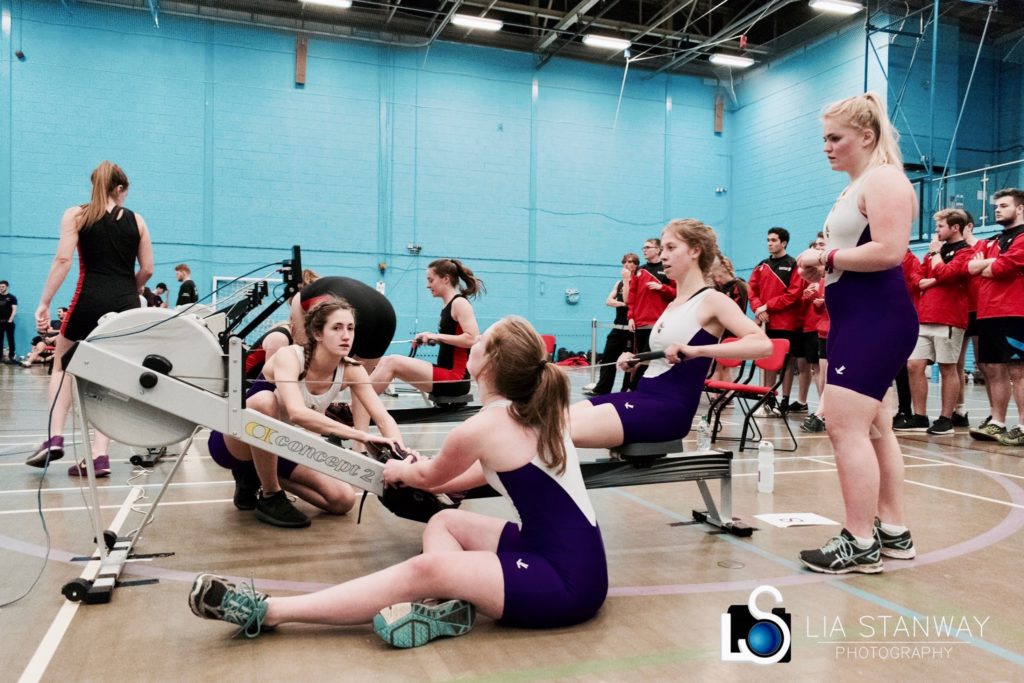 Overall a solid day out for the club with encouraging results from both the novices and seniors for this time in the season. It was also excellent to hear the level of support the squads had for each other, the cheers for Manchester were the loudest in the room. Now it's time to head back to the water to prepare for our upcoming head races.
Full results here.