The first race of the year, Agecroft Head, saw the new blood of Manchester University Senior Men's Squad get behind the oar with returning members and start the new season with some good racing. Light and heavyweight MUBC crews were pitted against each other on a cold, flat morning for some 3km fun, giving a strong precedent for the season to come.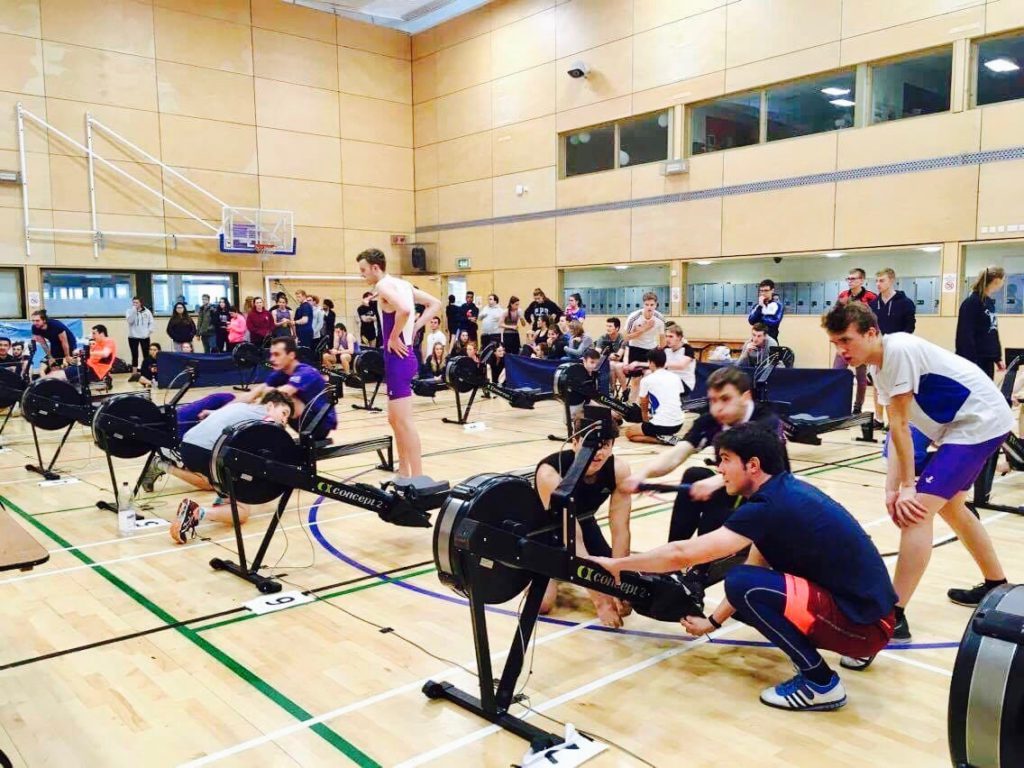 BUCS indoors provided some good local competition for rowers new and senior, with medals being awarded in all single events and some close results in the team relays.
This was followed by White Rose Head which saw much of the local competition get to fight it out on the Ouse, feeding frenzied fires started at BUCS. The results were promising for the development crews of a very new MUBC Men's squad, racing in fours and eights. The good competition helped fuel us through the hard winters training, preparing for BUCS head and our time on the Tideway (which was not to be…).
BUCS Head, Newcastle, brought with it the typical tirade of treacherous terrain with gusting winds in excess of 30 mph, pushing our boys to the limits. The morning saw a development quad and two fours racing. Following which a member of our about-to-race eight was struck down with sickness, a setback picked up by our super sub Peter Zelinka, who, trading two oars for one, jumped into the boat in less than ideal conditions.
With the Tideway controversially cancelled, our boys in purple headed to TSR Vadar in Holland for a week of hard training in preparation for a summer of regatta racing. With BUCS regatta on the horizon, training camp saw vast improvement across all squads, and a sense of belonging and synchronicity within the senior squad. With university life taking its toll on a few rowers, a new eight was forged from exceptional novices and returning seniors. This eight would go on to row together through exams, into Reading and Marlow. Reading was very much a stepping stone for the development crew, providing invaluable experience for the entire crew. Our novice coxswain showed outstanding maturity and exceptional shotcalling down a tricky course, keeping our inexperience crew inline and energised through 2 tough days of racing. Making the finals on both Saturday and Sunday, Reading Regatta provided a great base to build on in the run-up to Marlow and Henley.
Marlow brought with it beautiful conditions and a perfect day, with the support from the Women's squad following Women's Henley, the Men proved their worth in an excellent time trail. Through a turmoil ridden season, Marlow's time trail was my proudest moment as captain. The row was a masterpiece of rowing from my crew, holding their nerve in a big venue, alien to most of the crew. Looking down the boat from the bow seat, I was filed with pride for my crew, crossing the finish line exhausted and having given everything. Henley brought with it tough conditions for our Men's VIII, and tougher competition. The weeks of training and cohabitation brought together 9 hard working crewmates, an VIII that will be very much missed with seniors and novices moving on to new pastures. I look forward to rowing with those that return in the coming year and hope to build on the amazing progress we made as a squad.
William Bland – Men's Captain 2016/17