If you are interested in joining MUBC then please fill out our form which can be found here.
Alternatively join our Facebook groups, details of which can be found below.
SQUADS
---
MUBC consists of the Men's Squad and the Women's squad. Each integrate every year both senior and novice rowers as well as coxes. Our squads are open to all and no experience is required. As a beginner you will be taught everything from scratch. As a senior, you will further develop as a rower and integrate in a dynamic and growing club.
Senior Men's Squad
For men with previous rowing experience, the men's squad at Manchester University is an excellent place to develop as an oarsman, surrounded by performance minded individuals.
The squad has qualified five boats over the past six years into Henley Royal Regatta, and continues to put in good performances and pick up wins at BUCS, Marlow, Reading Amateur and Metropolitan regattas. They also have achieved good results at the major Tideway heads.
As well as rowing, the squad has met success with sculling, winning at scullers head and qualifying a quad into the Prince of Wales Challenge Cup in recent years.
For more details on the men's squad please contact Francis Heylen at seniormen@mubc.org.uk. You can also join the Facebook group.
Novice Men's Squad
For men with no previous experience of the sport, as part of the men's squad you will be taught how to row on the water, have access to fitness and strength sessions and compete across the county in various regattas and head races. Your ultimate aim will be to learn enough in just one year to qualify for the famous Henley Royal Regatta, held over 5 days in the first week of July.
For more details on the men's squad please contact captains Danny Crofton and Josh Knight Steward at novicemen@mubc.org.uk. You can also join the Facebook group.
Senior Women's Squad

The women's squad is one where performance and winning is the driving force. It is a place to develop technique as well as improve fitness while being surrounded by those that wish to do the same. While our main focus as a club is rowing, there is a strong sculling contingency competing throughout the year.
The squad has gone from strength to strength over the last couple of years with the squad continually growing. The women's squad, like the men's squad, compete across the country throughout both the head and regatta season, including: tideway races, Runcorn Head, BUCS and Reading Regatta.
Henley Women's Regatta is our finale and is a leading focus throughout the year, with the Coxed 4+ reaching the semi-finals of the Academic 4's in 2016.
For details on the senior women's squad please contact captain Rowena Bailey at seniorwomen@mubc.org.uk. You can also join the Facebook group.
Novice Women's Squad
During the first semester, novices will be taught rowing technique on the rowing machines and on the water, as well as following a rewarding fitness program focusing on core strength and cardio fitness throughout the year 2015/16 highlights have included the Novice Coxed 4 coming 2nd in the B Final of BUCS Regatta and the penultimate highlight, Henley Women's Regatta.
Beginners may contact captain Vicki Roberts at novicewomen@mubc.org.uk. You may also join the Facebook group.
Coxing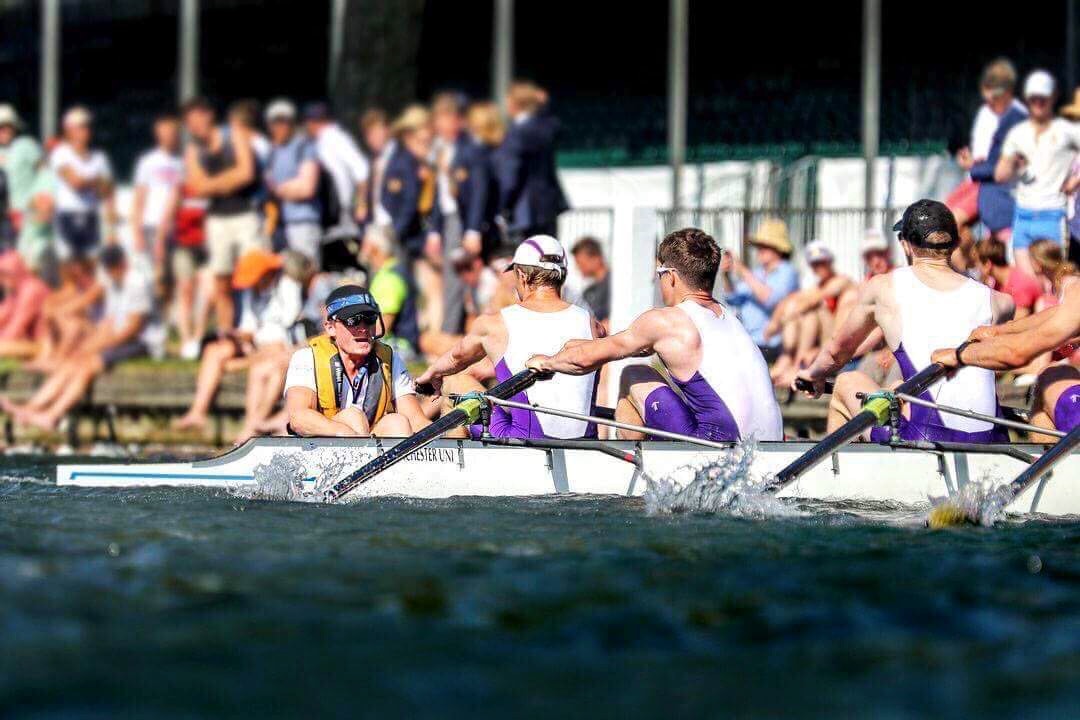 For anybody who has a keen interest in sports and management, coxing is for you! Whether you've had experience as a coxswain, a rower, or are brand new to the sport, with MUBC you will learn how to motivate and control a crew, as well as coach and incentivise the athletes under your command.
The past year has been bigger and better than ever for MUBC, and we hope to keep this going with a brand new cohort. With the chance of winning medals, and the opportunity to gain invaluable life skills, why not give it a go?
For further details on coxing and the coxes squad, please contact contact Emma Leverton  at coxing@mubc.org.uk or join the Facebook group.
Find us at the Sports Fresher's Fair in Welcome Week September 2018 at Manchester Academy where you can meet your captains and sign up to taster sessions on the water!